Your safe stay at the Hotel Eden
Enjoy your holiday to the full.
We continue to place great emphasis on keeping our hygiene standards high - disinfection stations are ready and throughout the hotel, FFP2 masks are mandatory. 
FFP2 masks are compulsory.
 
We would like to kindly inform you that as of Saturday, 19 February, 2022 we have the following entry requirements:
3G Verification from all countries
(Children under 12 years are not affected)
We kindly ask you to keep a "healthy distance" and disinfect your hands regularly. On arrival, 3-G proof must be presented at reception, this is compulsory according to the Austrian government. 
All facilities of the hotel are open. Food and drinks may only be consumed while seated / in place. 
Closing time for Adam's Bistro Bar is at 24.00 pm, last order at 23:30 pm. Thank you for your understanding. (Specification of the Austrian government) 
Please find below any information concerning the current status of our measures within the Region Seefeld - Tirols Hochplateau:
all employees are tested several times a week
we have been certified by the Chamber of Commerce, and
we have several Covid representatives in the house who are always available to you on the subject of safety.
HOW THE ENTRY TESTS WORK: 
The so-called entry test requires proof of a valid negative test, vaccination or recovery from coronavirus.
TEST: PCR test valid 72 h, antigen test 48 h, monitored self-test 24 h, on-site test only for one-time use of respective service  
VACCINATION: valid from 22 days after first dose for max. 270 days; second dose , as of now until 270 day from the second dose ... third dose... 
RECOVERY: valid for up to 6 months after a COVID infection
Hygiene measures
We kindly ask you to bring your personal mouth- and nose protection and to wear it in closed public areas to protect you and your fellow human beings.
We updated our hygiene standards - which have already been on the highest level (HACCP) – and implemented the latest hygiene concepts in consultation with health experts.
You will find disinfection stands at relevant places all over the hotel area. The cleaning intervals have been increased - all rooms are being additionally disinfected and ventilated thoroughly. Doorknobs, remote controls, elevator buttons, etc. are being disinfected at regular intervals.
In addition, all of our rooms in the entire hotel are equipped with openable windows. This guarantees an optimal supply of fresh air.
Check in – reception area
To shorten waiting times at the front desk, we kindly ask our guests to send the necessary information for check-in by email before arrival. Each guest will receive a personal information email in advance.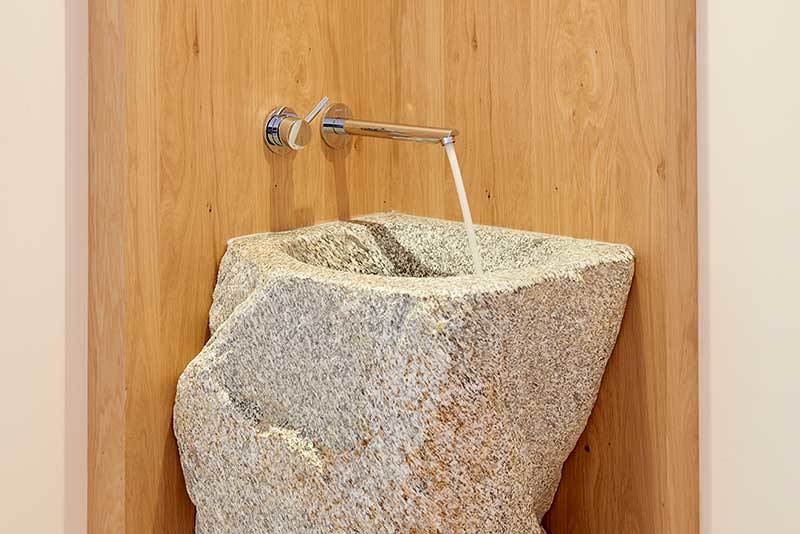 Rooms
The preparation of our hotel rooms is carried out according to the highest and strictest hygiene standards. Our employees work with cleaning supplies containing disinfectants. The laundry is washed in-house according to strict hygiene regulations, also in addition of disinfectant (with covid certification).
For your safety, we do not use decorative pillows, decorative blankets or any other decorative items during these times. You can find closer information material on the internet, by using the QR code.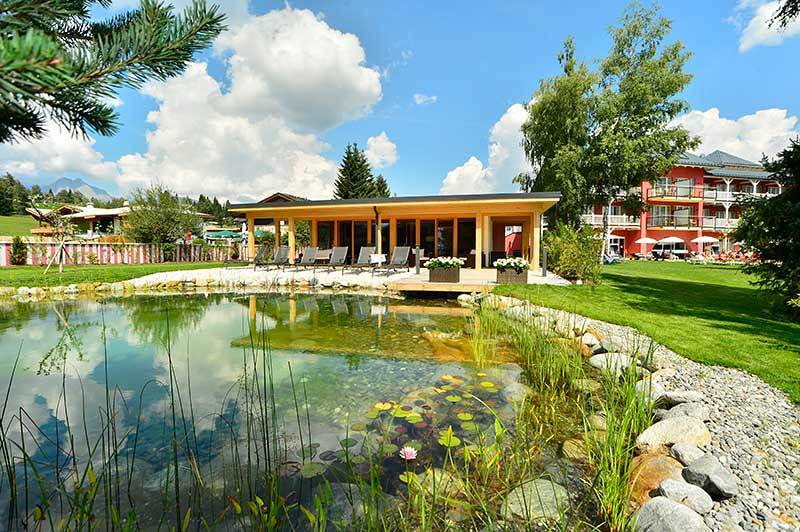 Garten Eden & Spa 
A transmission of the corona viruses via the bath- and pool water is considered unlikely. Nevertheless, we pay particular attention to the correct distance in saunas and the pool. In compliance with the minimum distance and the maximum number of people, we assume that we are allowed to open our sauna and our heated outdoor pool. The maximum number of people is going to be set by the authorities.
Massage & beauty treatments will take place in limited supply with special safety and hygiene measures.
Sports and activity program
We kindly ask you to bring (as far as possible) your own sports equipment (rackets, balls, etc.). Of course, all outdoor sports facilities provided by our regional partners, are available and open.
Check Out
For the safety of our guests, all hotel rooms are subjected to a particularly intensive disinfection. In order to meet the necessary time for this procedure, we ask you to adhere to the check-out time.
Our employees / The Hotel Eden Seefeld health-standard
We are committed to the highest hygiene and cleanliness standards to protect our guests and employees. In close coordination with doctors and health experts, we continuously develop behavioral rules that are adapted to the respective situation. We clean our staff house according to the same hygiene regulations as our guest rooms.
In case of illness
If you do not feel wellor have symptoms of illness, please stay in your room and call the reception desk. We will take care of everything else.
Due to our wish, to also take care of the environment, we have decided to work without disposable tableware wherever possible. Our dishes are disinfected according to the latest hygiene standards during the cleaning process.